Zion Activities: Where Wide Ranges of Needs & Interests are Met
There are many words that could be used to describe Springdale and Zion Canyon, and one of those words most certainly is variety. Zion National Park at it's surrounding areas have such disparate array of activities to choose from which is one of it's best qualities, allowing even the consistently returning visitors something new to do every time they come. Whether you are visiting with just yourself, with you significant other, or with the whole family, everyone of every age will have their pick of so many things to do. It doesn't matter if an any given moment you or someone in your group is looking for something to do that is exciting, or relaxing, or adventurous, or dangerous, or tasty, or comfortable…you get the idea. The Zion area has it all. This article will list a handful of activities that you won't believe can all be done in one area. You will be shocked. From young children to the wise and advanced in age, Zion National Park is the best place you can vacation and actually meet everyone's needs and desires. Read ahead and learn about these awesome Zion activities!
Helicopter rides
Of course, this was going to be the first one on the list! Soaring over the most beautiful place on Earth sounds like a dream to some, and many may have actually dreamt it! Make this dream a reality by taking a guided aerial tour with one of our professional pilots at Zion Helicopter and experience a once-in-a-lifetime adventure that you will never forget. Whether you prefer to do it at the beginning of your vacation so you can scope out areas of the park that you will soon visit, or at the end of your vacation so you can recognize spots inside the park that you have become familiar with in days previous, any way you fly will secure a priceless memory for you forever. Of all Zion activities, this is certainly one of the best
ATV Tours
How does cruising across flowing sand dunes behind the wheel of a state-of-the-art all-terrain vehicle sound? If you've never done this before, you are in for a treat. This is becoming one of the most popular and beloved Zion activities in recent years. Anyone preferring to feel the wind in their hair as they control their own high-performance ATV across backcountry roads and desert hills, this is for you. If you've got your kids with you, bring them along! They will absolutely love it!
Southern Utah golf
You have never experienced anything like golfing in Southern Utah. It is simply one of the most spectacular places in the world to play the sport which will immediately become apparent during your first game. The landscapes that surround every fairway and every green will, without even trying, provide you the best photos you've ever posted on social media. It's a serene, picture-perfect environment in a desert/mountain paradise. It will be one of your most memorable golfing experiences for sure. Don't forget to put this on your list of Zion activities.
Conclusion
Well, you probably didn't expect to go on vacation and see incredible golf, ATV tours, and helicopter rides on the same list of potential options for how to fill your days. We didn't even mention all the spas, restaurants, guided tours of various kinds inside the park, and more! And these are only some of dozens upon dozens of other Zion activities that await you when come to visit. No matter who's in your party, no matter what their ages are, no matter what they prefer to do when on vacation, Zion is the place that delivers. Contact Zion Helicopters for more recommendations and of course to book your aerial guided tours!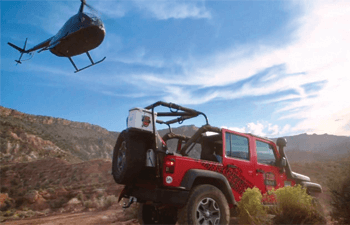 Zion Activities: Where Wide Ranges of Needs & Interests are Met
Zion Activities
Article by Clear Content Marketing