Zion Hiking: All Shapes and Sizes
There are many reasons why Zion National Park in Springdale, UT perpetually remains one of the most visited national parks in the nation. One of the best reasons is the vast range of activities one can engage in while there. If you are totally inexperienced, then Zion hiking is for you. If you are a hardcore adventurer, there are hikes for you. If you are aged, or a child, or require wheelchair access, there are hikes for you. Zion National Park is simply one of the best destination locations you could possibly dream up, especially if you are the outdoorsy type. There are many other reasons for this, but for our purposes here, we'll focus on the wide array of hikes with their varying levels of difficulty, access, and natural presentation. Whether you're coming to Zion for a family reunion and need something child-friendly, or it's just you and one other person and you're hoping for something a bit romantic awhile at the same time semi-strenuous, or your want something in between for a small group, Zion National Park somehow comes through on all accounts and gives everyone pretty much exactly what they're looking for if you know where to go. Here's a taste of the wonderful trail diversity that is a trademark characteristic of Zion.
Riverside Walk
This is a wonderful little trail that takes less than 30 minutes start to finish. It's a paved and maintained walkway from start to finish and is just beautiful. The Virgin River flows right along side you while you walk and there are little trail detours that take you down to the river if you feel so inclined. Children will love this one. You'll see plenty of trees and lush vegetation along the way.
Northgate Peaks Trail
This one is certainly not categorized as strenuous, however, it's a bit longer than Riverside Walk. Northgate Peaks Trail should take you between two to four hours (4 miles round trip) depending on your speed and how many times you stop for pictures and such. But, the trail is pretty much level the whole way while doing a bit of meandering every so often. You'll see a lot of open fields, white sandstone formations, grand forests, and no exposed sections (yay for parents with children). The viewpoint at the end is great, as is the case with most hikes in Zion.
Zion Narrows Day Hike
The legendary Narrows! You've probably at least heard of it if you haven't ever been through it before. Its fame is well-deserved. Some of the most incredible natural beauty you'll ever see is located here in this slot canyon. You'll wade through water (the Virgin River) for a good amount of time and see amazing narrow canyon walls lit by indirect sunlight and..well..we won't ruin it for you. The postcards are great but don't it do justice. Plan a half day for this one, even though it may not take you quite that long depending on your speed, you'll want to rest afterward. This is a fairly strenuous day hike, but this is Zion hiking at it's finest.
West Rim Trail
And finally, those who are of the backpacking persuasion will find their cup of tea here. 18 miles, 9-12 hours approximately (or 10-16 if you go the long way), this is a gorgeous and long journey that will have your camera thanking you but your calves not so much. There are other single and multiple day backpacking routes in Zion that are a lot more strenuous than this one, but this is a perennial favorite as it is mostly level or downhill for the entire duration. But you'll be tired after this one, that's for sure.
Conclusion
Understand that these are only four of dozens and dozens of trails, hikes, and paths that Zion National Park has to offer. No matter what the occasion or skill level, Zion hiking will suit you perfectly.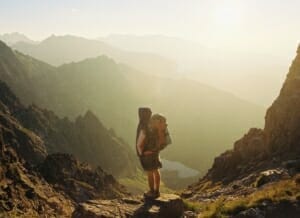 Zion Hiking: All Shapes and Sizes
Zion Hiking
Article by Clear Content Marketing