If You Are Looking For Short, Vigorous Day Hikes
So you're hoping to find a hike that's challenging but won't take up your entire day? There are plenty of those in Zion National Park. To be honest, though, the majority of Zion hikes that would universally be considered vigorous are relatively long, so making a list of strenuous hikes that are short is difficult. But we've certainly succeeded in curating a list of recommended hikes that meet both qualifications, it's just that the ones listed here would be more accurately categorized as short, moderately vigorous hikes. Don't worry, however. People looking to be challenged will most definitely be satisfied by choosing any of the following four trails. We decided to include two well-known options and two less-known ones.
Angel's Landing
This was the most obvious hike to include on this list. Anyone who's hiked Angel's Landing certainly remembers the burning in their calfs and how tired their feet were. By all accounts, Angel's Landing could be considered the face of Zion in the sense that, by name, it's probably the most recognizable hike in the Park. It earns its reputation easily by providing one of the most spectacular summit views you'll ever see. This is by far the longest hike on this list at 3-6 hours, depending on your desired speed, and its distance is 2.4 miles one way. Most consider this the most rewarding of all Zion hikes.
The Narrows
The Narrows makes this list because of its versatility in that it can be as long or as short as you want it to be; hikers can brave the entire 17 miles that The Narrows offers or they can simply walk a mile or two into it and then turn back, creating a nice 3-4 mile workout through ankle-to-waste high water. You'll be surprised how worked your muscles will feel after a 3-4 mile march through The Narrows. And we haven't even mentioned the fact that The Narrows is one of the most beautiful locations on Earth.
The Sand Bench Loop
This one is exciting because it's not a trail that is likely to be recommended to you by friends and experienced tourists who have been to Springdale before. You're not going to find a t-shirt in the Visitor Center with "The Sand Bench Loop" printed on it. It just doesn't carry the notoriety that some of the others do. In our opinion, these are the facts that make it that much more appealing! The whole thing is about 3.5 miles total and should take you somewhere between 1.5-3 hours to complete. And the thing that labels this hike vigorous is found in its name. The majority of this trail is sand. Varying in places from fine to deep, your legs will definitely be "feeling it" by the end from hiking through the sandy trail. But the fact remains that hardly anyone comes here which is all the more reason to go get it all to yourself! There are some great views and scenery. Horseback tours often come through as well so you may get to see some folks on horseback.
Checkerboard Mesa Canyon
A 2-4 hour excursion, the unofficially named Checkerboard Mesa Canyon is located immediately west of the famous Checkerboard Mesa landmark off Highway 9. This hike boasts some variety in that you'll experience some doses of moderate boulder climbing and hiking through some sand. If you've ever been through Hidden Canyon, a traditionally more popular Zion hike, Checkerboard Mesa is comparable in physical characteristics and scenery. It's beautiful, it's underrated, and it should be on your to-do list.
Conclusion
We know that no one needs any more proof that Zion National Park is incredible, but we can't say enough about how much we love it. The Zion hikes we've recommended here will fill your short-but-vigorous hike void, creating great photos and memories to boot. Zion Helicopters is proud to call this fantastic area home. When you stop into our location for a guided tour, ask about any other recommendations and we'll be happy to help you in any way that we can with your Zion National Park itinerary.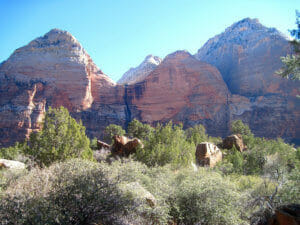 If You Are Looking For Short, Vigorous Day Hikes
Zion Hikes
Article by Clear Content Marketing