Zion is such a fantastic place to visit whether you are trying to just go for a short stroll or a rigorous hike, this place has it all! Guided tours Zion is one of the best ways to see the most important aspects of the park. Guided tours are led by knowledgeable and friendly guides who understand the intricacies of the park. There are so many commercial tours to choose from as well! Rock climbing tours, canyoneering, hiking, jeep tours, etc. Guided tours are great for families since they offer family vacation tours. Take on the adventure in Zion without the hassle of planning, gearing, logistics, etc.
All of the pictures here are of our exclusive Blue Light Mesa-Butte landing tour, which as you can see, offer you a one-of-a-kind Zion experience.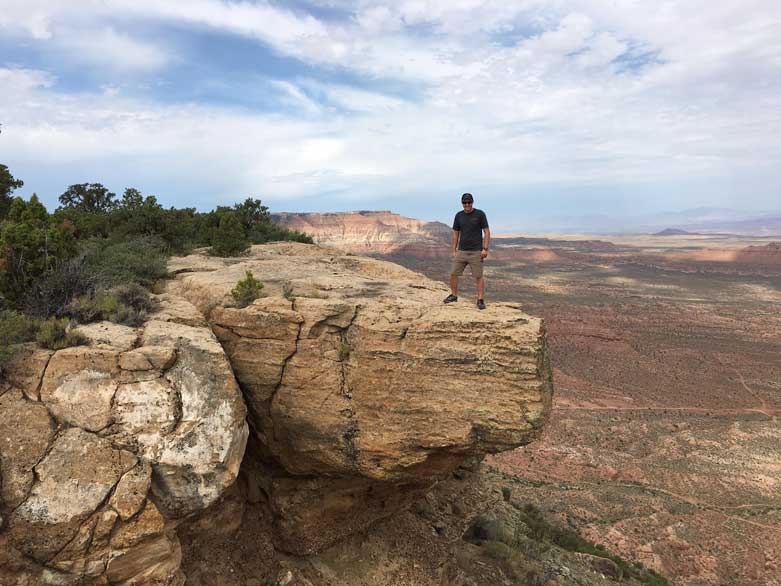 Guided Tours Zion – Why Take Them
So why take a Zion guided tour? Yes, it relieves you of the hassle of planning and gearing up, but what other reasons would you want to go on a guided tour? When it comes to exploring there is so much that could go wrong, and without proper knowledge, everyone's safety is at risk. That is one reason why a guided tours for canyoneering and climbing can be your best choice.
When we think about it though, these tours give you an opportunity to experience an adventure through Zion that is beyond what you would be able to experience on your own accord. Exploration is the core of the history of National Parks, we wouldn't have them today without it. Most people these days are so domesticated that getting outdoors is almost too scary. So thankfully guides are what helps these people exit their comfort zone and learn to love the adventure of exploring.
Guided Tours in Zion Benefits
Knowledge is another benefit of taking a guided tours, Zion. You learn not only how to go canyoning, or learn climbing skills, but you learn about your surroundings, the history of the park and more. Allow yourself to absorb all the information that the guide has about the park so that when you return you will be capable of an exploration all on your own.
Exploration and adventure is a part of human nature, that little pull we feel at our core when we are in unknown territory is our instincts telling us to explore, and conquer! Guided tours are the perfect way to get your fill of adventure, all under the supervision of a trained professional. Rewarding feelings are bound to overcome you as you reach your destination. This is truly an experience for the books.
Additional Guided Tours in Zion Options
Not much of a hiker or climber at all? That's fine! That is what the ATV, horseback, and helicopter rides are for! Many people have exclaimed that nothing quite beats the feeling of flying about the park and getting a bird's eye view of Zion. We don't blame them either! Because there really is nothing like it. Obviously being inside the park is captivating, but the views are absolutely outstanding from above.
The helicopter tours are absolutely captivating, breathtaking, and invigorating. Definitely, a memory that you will carry with you for the rest of your life. Just being able to fly in a helicopter over the park and capture memories with loved ones that are beyond what you would experience on the ground is what we strive for.
Learn more about our Zion guided tours here