If You Are Looking For Some Easy Hikes
Because of Zion National Park's impressive diversity when it comes to activity choices, there tends to be a large contrast amongst tourists as far as interests are concerned. For example, many people come to conquer the most strenuous hikes Zion has to offer while others come simply to photograph the natural beauty of the area; and others can be found somewhere in between. We know a lot of you out there like to relax while you're on vacation and would rather not exert too much energy – if it can be avoided – while still getting out and experiencing the area. After all, you're on vacation, right? And some of you are bringing your family including little ones and hope to find in Zion some outings that consider the safety needs and energy restraints of children. You are in luck. Zion has plenty of hikes like that, and they are all beautiful! Here are five of them to consider when you've got very young or elderly folks in your group and you all would like to stay together.
Emerald Pools
This one you may have heard of because it's a year-round favorite for most visitors. With extremely convenient and easy access to the trailhead right near the Visitor's Center inside the Park (including wheelchair access), Emerald Pools is almost guaranteed to be visited at least once by each and every tourist; and certainly first-time visitors. With three distinct levels – lower, middle, and upper – you and your group can hike according to your preferences and abilities. The trails are filled with streams and waterfalls that all ages will love. The lower is short, sweet, and mostly level the whole way. The middle is a tiny bit more strenuous, and the upper is the most involving of three. The lower and middle are completely fine for kids; the upper probably not. Each section is fantastic, though. Emerald Pools is a Zion mainstay mainly because of how beautiful it is. Don't pass this one up.
Weeping Rock
This is the shortest trail in our group of recommendations; only about ten minutes. But like Emerald Pools, it's an oft-visited portion of the Park because of how striking it is. Weeping Rock gets its name from the water that seeps through the rock face causing eye-catching vegetation that crawls down and hangs from the rock. The trail is all paved and has a viewing area at the end with a platform. Without question, this spot is worth ten minutes of your trip. As always, remember to bring your camera. There are some great shots to be had on this trail.
Riverside Walk
Constructed alongside the banks of the Virgin River, this wheelchair-accessible trail is one mile there, one mile back, and gorgeous the whole way. 100% family-friendly, Riverside Walk can easily be enjoyed by people of any age. The whole length of the trail is paved and mostly level. You'll get incredible views of trees and damp vegetation along the way. You can also head down to the river by taking one of the many little trails that connect the main walkway to the river. Hint: If you go later in the day, you'll be out of direct sunlight and will have a cool, shaded stroll that is as comfortable as a hike can be.
Northgate Peaks Trail
This gem is found in the Kolob section of the Park as opposed to the Main Canyon section where the majority of visitors go, so choosing this hike will get you away from the crowds and allow you to see a section of the Park that many forget to consider. The drive to this trailhead is amazing in its own right. This is the longest trail of our recommendations at 4 miles total so it will be a good idea to pack along some water and snacks, but the great thing is that it is almost totally level and the viewpoint at the trails end is awesome. Also, there aren't any exposed sections on this trail so kids are a-okay.
Canyon Overlook Trail
This one is also short and really should only take you about 30 minutes to an hour to get to the viewpoint and back again. It's also a maintained path, making it simple and easy to travel over. There's also a good-sized shaded section that will give you a break from the sun, depending on what time of day you're going. Like many of the hikes in Zion, there is a plaque at the viewpoint that identifies the major landmarks that can be seen from that spot. One thing to remember about this hike, though, is that there are some exposed sections. So consider leaving the little ones at the hotel when choosing this trail.
Conclusion
All of these trails are worth your time – guaranteed – even if you are alone or consider yourself a seasoned hiker. But if you are looking for something on the softer side that doesn't require a backpack of supplies and a whole day off of work, these are your go-to easy hikes options. Every family member will love these hikes. All of them have very easy access, are predominantly short, and are stunningly beautiful. Enjoy!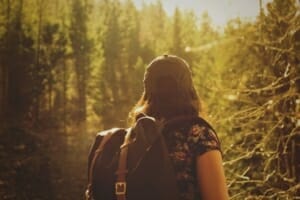 Zion Helicopters
Easy Hikes
Post by Clear Content Marketing